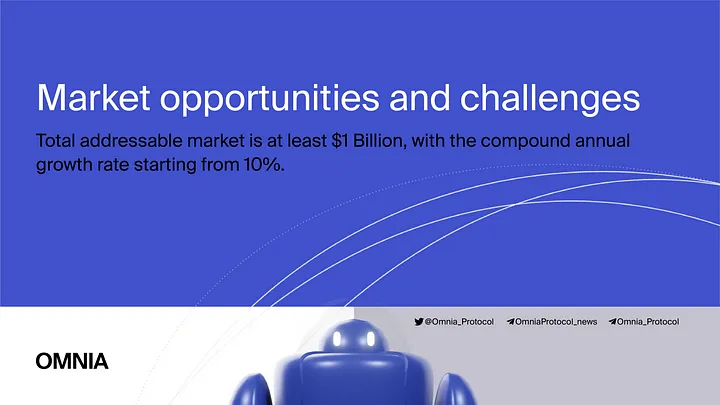 Access to blockchain infrastructure — market opportunities and challenges
2
min read
As an up-and-coming player in the blockchain industry, OMNIA believes in combining the power of decentralization with privacy to provide an unmatched node provider service. In this article, we aim to provide a general market overview and list the opportunities and challenges that await us in the future.
Opportunities Overview
Our market research indicates that the total addressable market (TAM) is at least $1 Billion, with the compound annual growth rate (CAGR) reaching at least 10%.
At the moment, there are only 65 million people who use blockchain technology (Source: 8-bit.io, Statista), which accounts for as little as 0.71% of the entire world's population. This small number, however, actually indicates huge upside potential as blockchain technology is set to become even more mainstream in the upcoming years.
A prime example to confirm this trend is the accelerated adoption rate caused by the recent boom in DeFi, NFT and Metverse market segments, which could be easily observable from Ethereum unique addresses growth chart — with 181 million unique entries (as of 1st January 2022). It is also worth noting that blockchain is much more than Ethereum which only accounts for ~25%.
These facts allow us to reasonably assume that 10% of the unique addresses are active with a medium usage of 4h/day. For the Ethereum network, this translates to 2.85 million active wallets per day. If we consider the average blocktime of 15s then we get 18.6 billion daily requests to Ethereum nodes only.
If these numbers are extrapolated with the market distribution we can observe that at the moment, there are around 73 billion daily requests to blockchain nodes, with a double-digit CAGR. If we price these requests at what existing node providers are charging, we can easily compute TAM to at least $1 Billion.
Challenges Overview
Corporations that act as node providers currently serve access to blockchain infrastructure.
Challenges are always hidden opportunities. In the current landscape of centralized and managed access to the blockchain infrastructure, we researched and documented existing issues to which OMNIA Protocol is currently building solutions. Read here to see how decentralized blockchains really are, how DDoS attacks are facilitated by the existing centralization approach, or how often crypto exchanges and other services are being disrupted by centralized providers outage.
Additionally, our indirect competition consists of other privacy infrastructure providers, ranging from Virtual Private Network (VPN) providers to solutions similar to Tor.
Due to the generic nature of how these indirect competitors solve the privacy aspects at the infrastructure layer — without any specific domain being targeted, such as blockchain, we are confident that fruitful collaborations can emerge by partnering with a select few.
TL;DR:
Blockchain technology is already on track and becoming mainstream, with a strong adoption curve and a total addressable market (for infrastructure access) of at least $1 Billion;
Our main competitors are the centralized node providers on the market, as well as other privacy infrastructure providers like VPNs, though to a lesser extent. (read here how we are better).