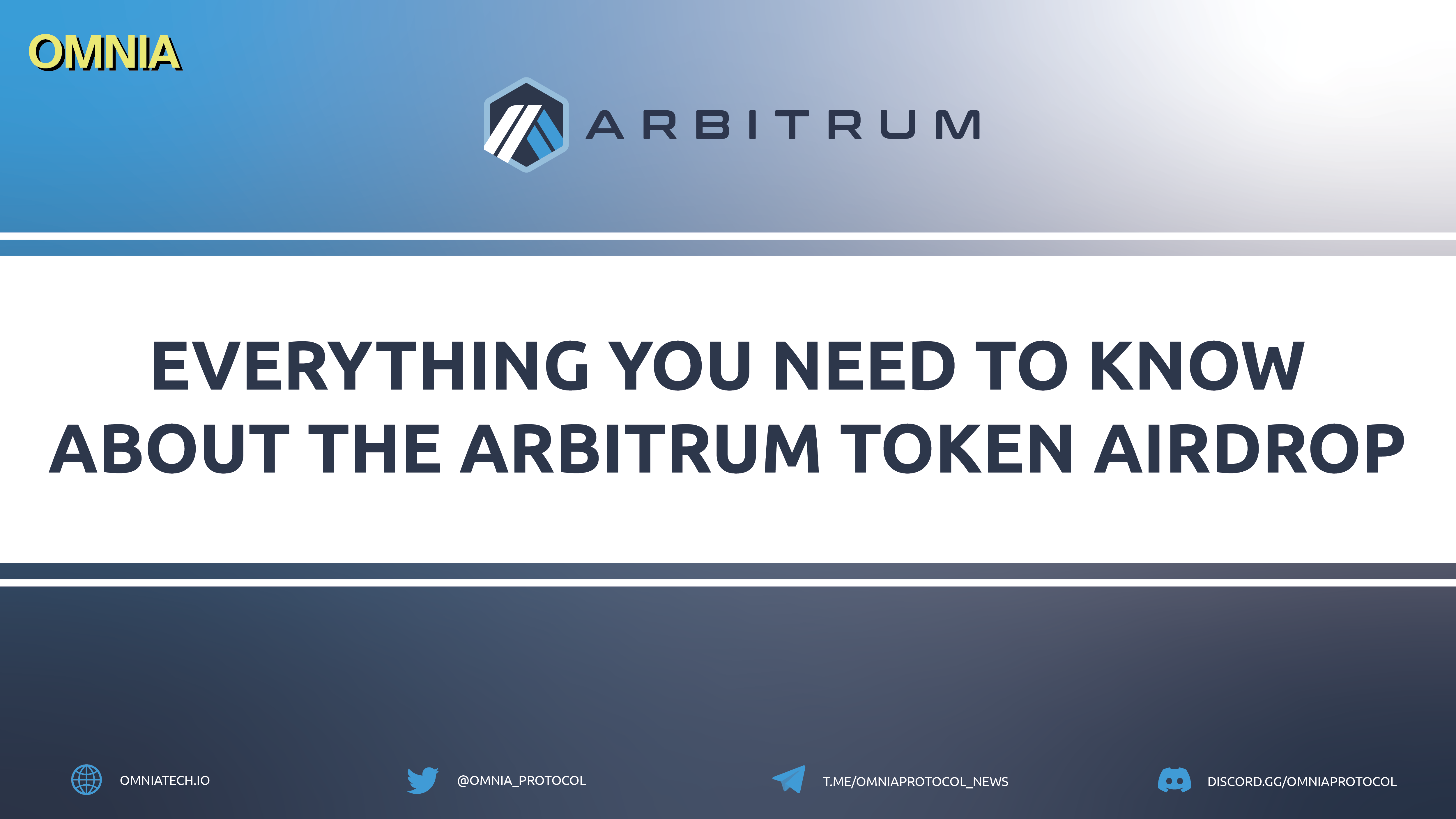 Everything You Need to Know About the Arbitrum Token Airdrop
3
min read
What is the Arbitrum Airdrop?
The cryptocurrency community is buzzing with excitement about the latest Arbitrum Airdrop. The announcement of this new layer-2 token is eagerly anticipated and we wanted to share a reliable approach to claiming this token.
Arbitrum is a Layer 2 scaling solution for Ethereum that uses Optimistic Rollups technology to increase transaction throughput and reduce fees. By enabling transactions to occur off the main Ethereum chain, Arbitrum can process transactions faster and cheaper than Ethereum itself, while remaining fully compatible with Ethereum smart contracts and dApps.
The Arbitrum airdrop refers to the distribution of the native token of the Arbitrum network, called ARB, to users who have previously used decentralized applications (dApps) on Ethereum. The purpose of the airdrop is to encourage users to try out the Arbitrum network and its dApps by providing them with some free ARB tokens.  The airdrop has been assigned a total of 1.162 billion ARB tokens.
How can you claim your Arbitrum Airdrop?
You can use a private custom endpoint and make sure your transaction doesn't get stuck. RPCs play a vital role in these processes as they define the rules for transmitting information and establishing connectivity with servers.
You can create customized Arbitrum RPC endpoints using OMNIA and ensure 100% reliability and up to 100,000 free requests daily, as well as a vast number of daily requests for the average user. Omnia facilitates an unlimited subscription too!
Here is a step-by-step guide to claiming your Arbitrum Airdrop:
1. First, launch the Omnia app and connect your MetaMask wallet. Click the 'Generate Endpoint tab'.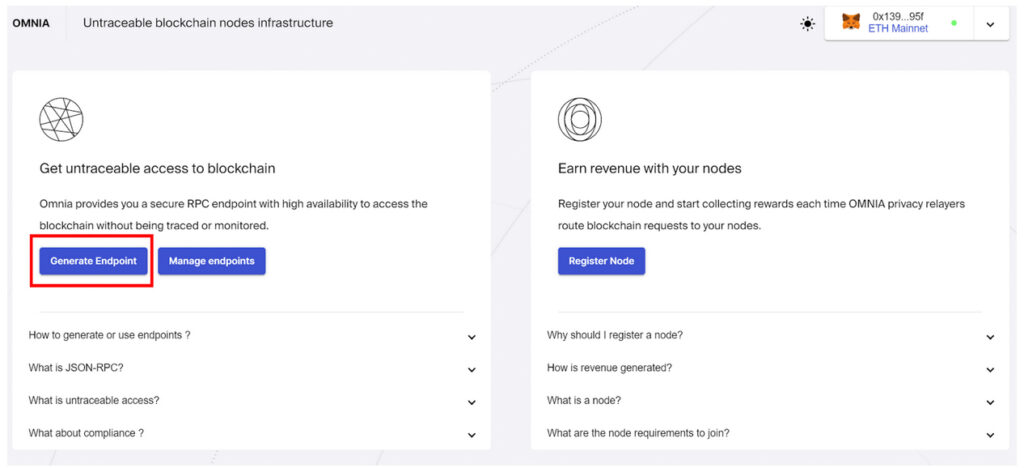 2. Select the Arbitrum Network and click 'Customize Subscription' – IT'S FREE! You will be able to adjust various metrics and values to customize your Omnia subscription for your personal needs.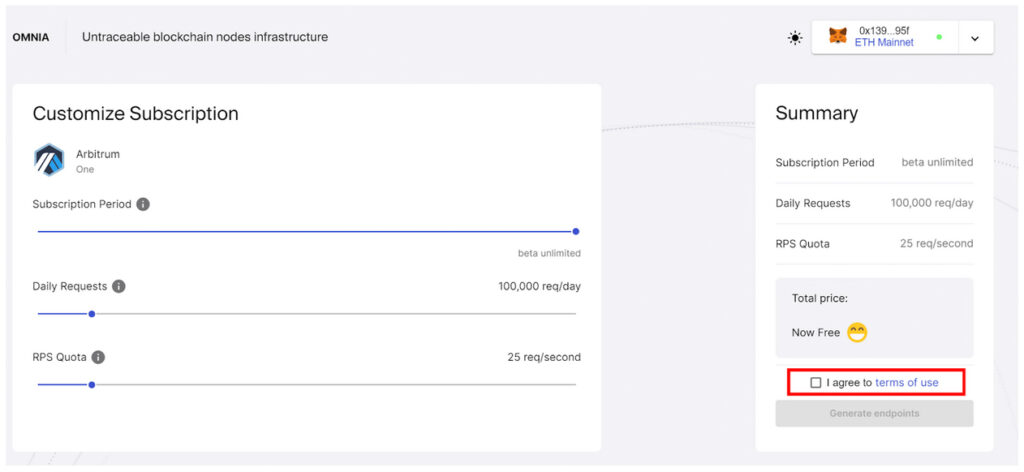 3. 'Agree To Terms of Use' and sign a message, this will generate a new, unique Arbitrum RPC URL.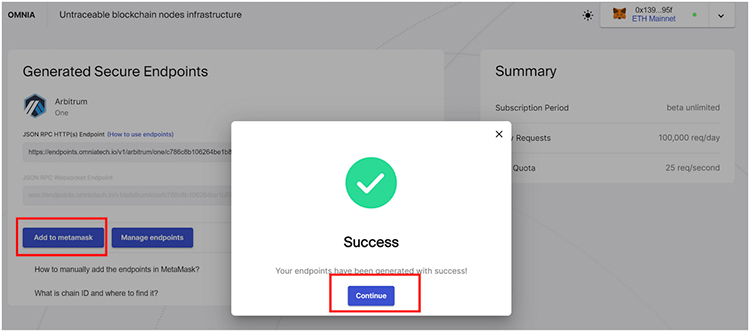 4. Go to MetaMask drop-down, click 'Add Network' and click 'approve'. This action will automatically inject a secure and private OMNIA Arbitrum RPC endpoint in your wallet.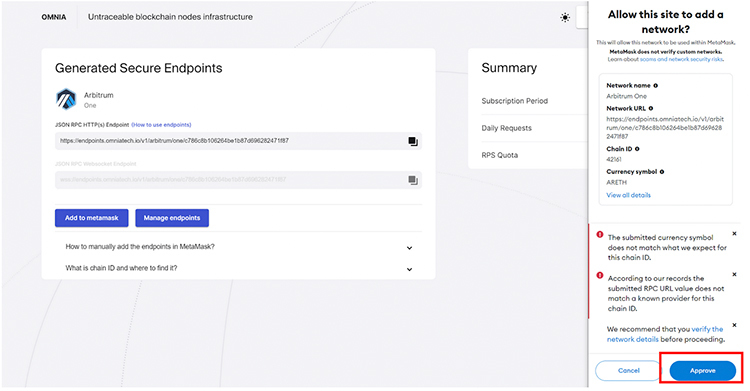 5. Once you click 'Switch network' you are connected to a secure #Arbitrum #RPC node to use private and secure transactions!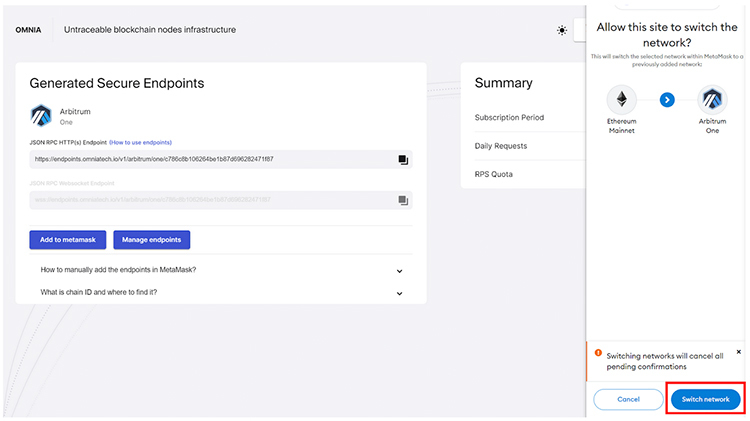 What's next for ARB?
The future plans for ARB include expanding the adoption of the Arbitrum network and its native token, as well as improving its functionality and scalability. Some potential developments that may be in the pipeline for ARB include:
Increasing the number of dApps on the Arbitrum network and improving their user experience to attract more users and developers.
Further developing the Optimistic Rollups technology to increase the transaction throughput and reduce the latency of the network, making it more competitive with other Layer 2 scaling solutions.
Exploring interoperability with other blockchain networks to facilitate cross-chain transactions and expand the use cases for ARB.
Building out a robust ecosystem of tools and services to support the development and deployment of smart contracts and dApps on the Arbitrum network.
Ultimately, the success of ARB will depend on its ability to attract users and developers to the Arbitrum network and to demonstrate its value as a scalable, low-cost alternative to the Ethereum network. This airdrop will definitely pave the way for Arbitrum's future in the crypto space.