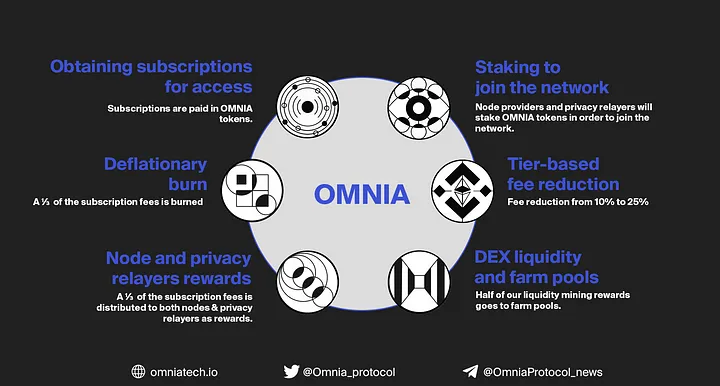 OMNIA Protocol — Token utility
2
min read
OMNIA token is a deflationary utility token that is designed to run OMNIA protocol.
There are multiple use cases for the OMNIA token that fuels its utility on both community and product verticals:
👉 Staking to join the network — Node providers and privacy relayers will stake OMNIA tokens in order to join the network. They commit to some specific performance metrics and their reward is decreased if conditions are not consistently met. In extreme conditions where they have malicious behavior against the network's benefit, they get slashed and loose the staked tokens.
👉 Tier-based fee reduction for token holders:
125,000 tokens will equate to a 10% fee reduction
650,000 tokens — 15% reduction
3,200,000 tokens — 25% fee reduction
(above token amounts are subject to change due to its increasing value)
👉 Rewards — A ⅓ of the subscription fees is distributed to both nodes & privacy relayers as rewards.
👉 Obtaining subscriptions for access — subscriptions are obtained using OMNIA tokens.
👉 Deflationary burn — A ⅓ of the subscription fees is burned.
👉 DEX liquidity and farm pools — Contributing the tokens to the DEX liquidity pools will ensure that OMNIA tokens can be traded when needed. Therefore, we want to reward users who help solve the liquidity problem on the decentralized liquidity provider platforms. With respect to this, we will put half of our liquidity mining rewards to farm pools.
👉 Holders loyalty — There are, however, some features that will be limited only to those holding OMNIA tokens. For example, token holders may be able to generate and use much more endpoints, or their request rate will be higher. Beta testing will be available only to token holders.
As the ecosystem grows, along with all the aligned incentives, the total value locked in tokens will also increase. A deflationary token approach brings benefits to all the ecosystem actors without having them to dump tokens on the market, thus promoting a long term strategy for exponential gains.