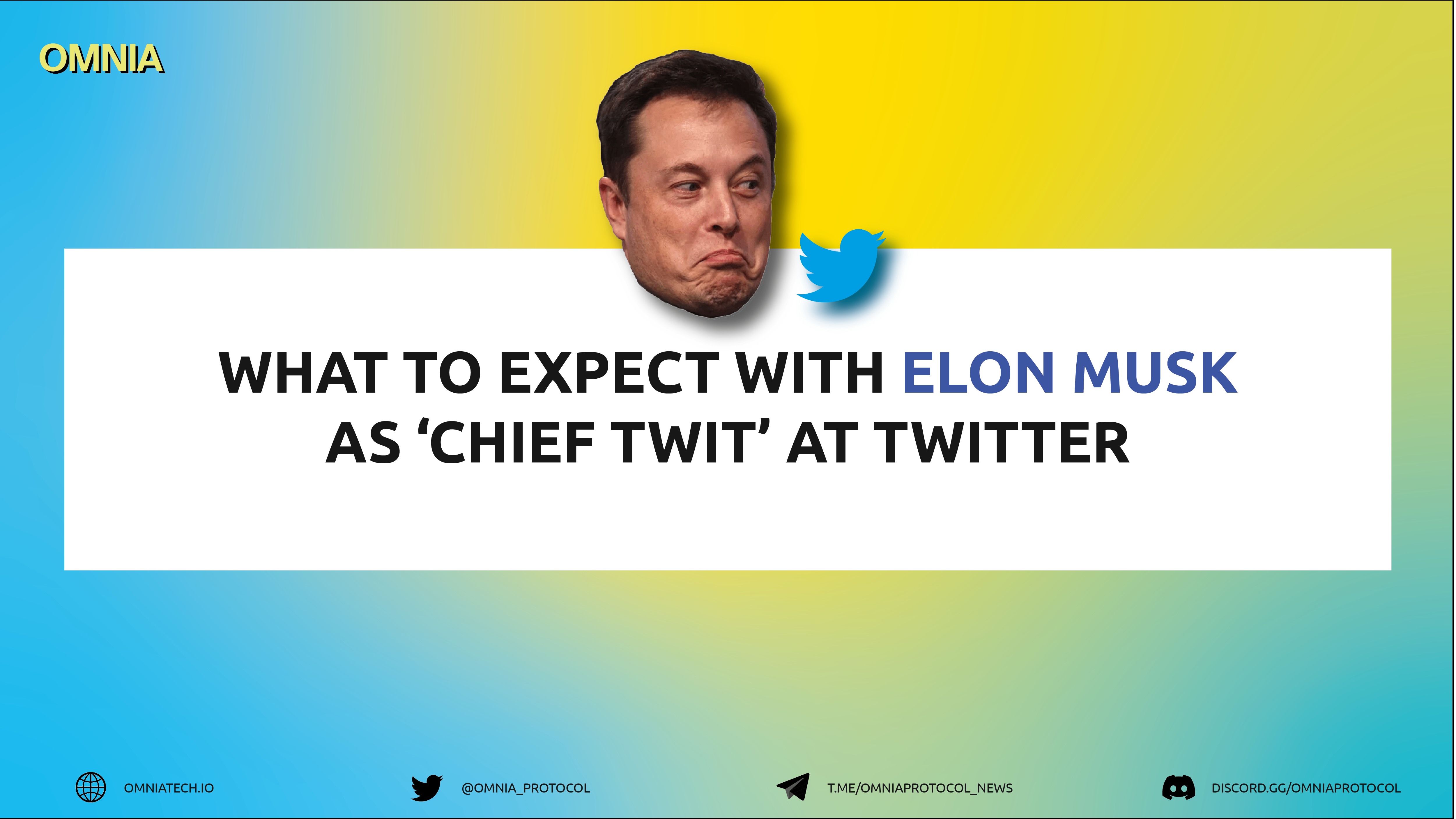 What to Expect With Elon Musk as 'Chief Twit' at Twitter
3
min read
Elon Musk is officially the new owner of Twitter. The billionaire entrepreneur who is the founder and CEO of SpaceX, CEO of Tesla, Founder of the Boring Company, and co-founder of Neuralink and OpenAI is now the 'Chief Twit' according to a recent update of his Twitter bio.
To mark the event of his new endeavor at Twitter, Mr. Musk walked into the company headquarters on Wednesday carrying a bathroom sink, alluding to a popular online joke of 'let that sink in.'
Elon Musk 'letting that sink in' as he walks into Twitter headquarters. Source, Twitter.com
'The Bird is Freed' as Elon Musk Fires Top Execs.
Elon Musk has since updated on the progress of his latest $44 billion acquisition by tweeting that 'the bird is freed.'
Around the same time, news broke that Mr. Musk had immediately let go of multiple top executives at Twitter, including its CEO Parag Agrawal, Chief Financial Officer Ned Segal, and Head of Legal Policy, Trust and Safety Vijaya Gadde.
Musk Could Serve as Interim CEO, and Rumors of Additional Layoffs Could Materialize
Elon Musk is expected to assume the role of interim CEO as Twitter enters a new era as a private company.
The immediate firing of top executives has also reignited fears that the Tesla CEO might just follow through with the rumors that he plans to reduce the company's workforce by 75%. It had earlier been reported that he was planning on cutting Twitter's workforce from 7,500 to 2,000, claiming that the company's headcount was bloated and had a 'strong left-wing bias.'
However, Twitter employees did not take the idea of lay-offs lightly and penned an open letter to Mr. Musk opposing his plans. At the core of the open letter were the following four demands by Twitters employees.
Respect and preservation of the current headcount
Safety – that they will not be discriminated against based on race, gender, disability, sexual orientation, or political beliefs
Protection – that employee benefits be maintained, including the option of working remotely
Dignity – Twitter employees demand transparent, prompt, and thoughtful communication and to be treated with dignity and not pawns 'in a game played by billionaires'
Twitter is Important to the Future of Civilization as a Common Digital Town Square – Elon Musk
Concerning the future of Twitter as a platform, Elon Musk shared his motivation for buying the social media giant in a Tweet that first debunked the idea that he bought it for advertising reasons.
Mr. Musk explained that he bought Twitter 'because it is important to the future of civilization to have a common digital town square, where a wide range of beliefs can be debated in a healthy manner, without resorting the violence.'
He added that he did not make the purchase to make money but 'to try help humanity,' which he loves. As a result, Twitter will likely become more inclined toward promoting free speech within 'the laws of the land.'
Advertising will still be essential to the platform, but Twitter users will come first.
Twitter Could Become an All-in-one Super App Similar to WeChat
There is also speculation that Elon Musk plans to evolve Twitter into an everything-app inspired by China's WeChat. The latter is owned by Tencent and provides its users, mainly located in China, with a one-stop app for messaging, voice and video calls, payments, e-commerce, daily news, booking doctor's appointments, ordering food and taxis, booking flights, gaming, and more.
However, integrating all these features on Twitter will be a huge undertaking that will likely take time. What might happen is a step-by-step release of new features, such as end-to-end encryption for Twitter's direct messaging and crypto subscriptions and payments, that will likely kick off by supporting his favorite digital asset, Dogecoin (DOGE).
Another alternative would be to preserve the basic functionality of Twitter with a guarantee of free speech with additional improvements, then launch an entirely new app to cater to his vision of a one-stop super app. Elon Musk hinted at such a possibility when he tweeted in early October about buying Twitter as 'an accelerant to creating X, the everything app.'
Speculation aside, the reality remains that Twitter will undergo some massive transformations courtesy of its new owner. Therefore, a wait-and-see approach is recommended moving forward.