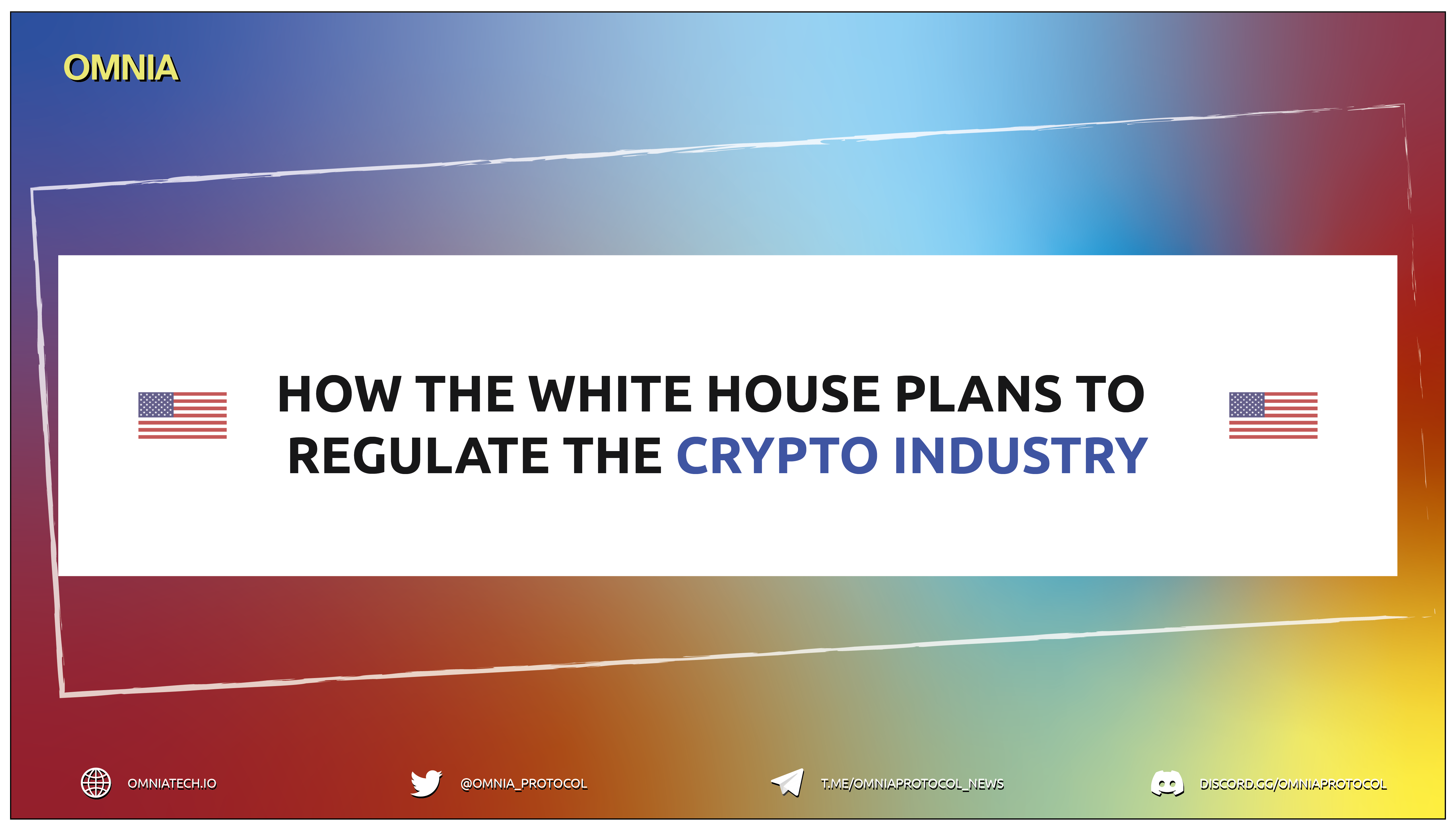 How the White House Plans to Regulate the Crypto Industry
4
min read
President Biden's White House has taken the first step in providing a first-ever blueprint for the regulation of crypto through the publication of its 'Comprehensive Framework for Responsible Development of Digital Assets.'
The move follows President Biden's March 2022 executive order on 'Ensuring Responsible Development of Digital Assets' that outlined a wholesome approach by the US government in 'addressing the risks and harnessing the potential benefits of digital assets and their underlying technology.'
Government Agencies, Experts in Academia, Industry, and Civil Society Have Provided Valuable Input for the Regulatory Framework
Since then, and over the last six months, government agencies have worked together to develop frameworks and policy recommendations that pinpoint six critical priorities in the Executive Order: consumer and investor protection; promoting financial stability; countering illicit finance; U.S. leadership in the global financial system and economic competitiveness; financial inclusion; and responsible innovation.
President Biden has also received nine research reports from stakeholders and experts across government, industry, academia, and civil society. The reports challenge agencies to encourage innovation by supporting private-sector research and development and helping US firms find a foothold in global markets.
The reports also call for measures of mitigating risks using increased enforcement of existing laws and creating standards for crypto mining. They also recognized the potential benefits of a US Central Bank Digital Currency.
Protecting Consumers, Investors, and Businesses
The volatility of the crypto markets, the continual misleading of consumers by rogue actors, the non-compliance with existing laws, and scams are widespread in the digital asset industry. Consequently, the Biden-Harris administration plans to take the following steps.
Work with independent regulators to protect consumers.
Encourage the Securities and Exchange Commission (SEC) and Commodity Futures Trading Commission (CFTC) to pursue investigations and enforcement actions against unlawful practices.
Encourage the Consumer Financial Protection Bureau (CFPB) and CFTC to monitor consumer complaints and enforce against unfair, deceptive, and abusive practices.
Request agencies to collaborate, provide guidance, and address consumers' current and emerging risks.
The Financial Literacy Education Commission (FLEC) to lead consumer awareness efforts to help them understand risks, identify fraudulent practices, and learn how to report misconduct.
Promoting Access to Safe, Affordable Financial Services
Financial inclusiveness through digital assets could cater to the needs of 7 million unbanked Americans and another 24 million who rely on costly nonbank services such as check cashing and money orders.
The Federal Reserve has already launched its efficient FedNow 24/7 payment service to advance the US's nationwide infrastructure for instant payments. The current administration plans to take the following additional steps.
US agencies to encourage the adoption of instant payment systems such as FedNow and improve the efficiency of cross-border payments.
The President to consider agency recommendations to create a federal framework to regulate nonbank payment providers.
The National Science Foundation (NSF) to assist research in technical and socio-technical disciplines and behavioral economics to ensure digital assets ecosystems are usable, inclusive, equitable, and accessible to all.
Fostering Financial Stability
On the vital point on financial stability, the White House's framework on regulating crypto highlights May's Terra USD crash as a prime example of how unregulated stablecoins 'could create disruptive runs.' UST's collapse also kickstarted 'the subsequent wave of insolvencies that erased nearly $600 billion in wealth.'
As a result, the Financial Stability Oversight Council (FSOC) will publish a report in October discussing the stability risks of digital assets, identifying related regulatory gaps, and making additional recommendations to foster financial stability.
The US Treasury will work with financial institutions to identify and mitigate cyber vulnerabilities and work with other agencies to 'identify, track, and analyze emerging strategic risks that relate to digital asset markets.' It will also collaborate with US allies on the same.
Advancing Responsible Innovation
The US has long been the source of global innovation and aims to continue the trend with digital assets.
The Biden administration intends to task the Office of Science and Technology Policy (OSTP) and NSF to develop a Digital Assets Research and Development Agenda to kickstart fundamental research on crypto-related topics. The US Treasury and regulators are encouraged to provide US firms in the sector with regulatory guidance, best practices, and technical assistance.
The Department of Energy, the Environmental Protection Agency, and other agencies will track the environmental impact of digital assets, develop standards, and provide local authorities with the tools, resources, and expertise to mitigate against harming the environment.
The Department of Commerce will establish a standing forum to bring together federal agencies, industry, academics, and civil society experts who can provide knowledge and ideas on federal regulation, standards, coordinating activities, technical assistance, and research support.
Reinforcing the US's Global Financial Leadership and Competitiveness
In addition, President Biden's administration looks to reinforce the US's role in global financial leadership and uphold its values in global digital asset markets by taking the following steps.
Partnering with countries still developing their digital asset ecosystem and work with the G7, G20, Organization for Economic Co-operation and Development (OECD), the Financial Stability Board (FSB), Financial Action Task Force (FATF), and the International Organization for Standardization.
Leverage US positions in international organizations to promote US values related to digital assets.
The State Department, the Department of Justice, and other agencies to increase collaboration and assistance to partner agencies in foreign countries.
The State Department, Treasury, USAID, and other agencies to explore further technical assistance to developing countries on digital asset infrastructure and services.
The Department of Commerce to help cutting-edge US financial technology and digital asset firms find a foothold in global markets.
Fighting Illicit Finance
The US has constantly led the world in Anti-Money Laundering (AML) efforts and Countering the Financing of Terrorism (CFT) in traditional finance and the digital asset ecosystem.
Therefore, President Biden's white house will take the following actions.
The President will evaluate whether to request
Congress to amend the Bank Secrecy Act (BSA), anti-tip-off statutes, and laws against unlicensed money transmitting to apply explicitly to digital asset service providers and NFT platforms.
The US will continue monitoring the illicit financing risks in the digital asset sector, including Decentralized Finance.
US departments and agencies will continue exposing and disrupting cybercriminals and illicit actors and address the abuse of digital assets.
Treasury to collaborate with the private sector to ensure firms understand existing laws, obligations, and illicit financing risks associated with digital assets.
Exploring a US Central Bank Digital Currency (CBDC)
The popularity of stablecoins in the crypto industry has also created an urgent need for a regulated US Central Bank Digital Currency (CBDC).
A digital dollar will offer a more efficient payment system, improve cross-border transactions, promote financial inclusion, foster economic growth, fight cyber and operational risks, safeguard user privacy and minimize risks of illicit financial transactions. A US CBDC will also potentially preserve the US's global economic leadership and support the effectiveness of sanctions.
The Biden Administration has developed policy objectives for a US CBDC that reflect the government's priorities for a potential digital dollar. However, further research and development is needed to ensure a US CBDC protects consumers, promotes economic growth, improves payment systems, is interoperable with other systems, advances financial inclusion, protects national security, respects human rights, and aligns with democratic values.