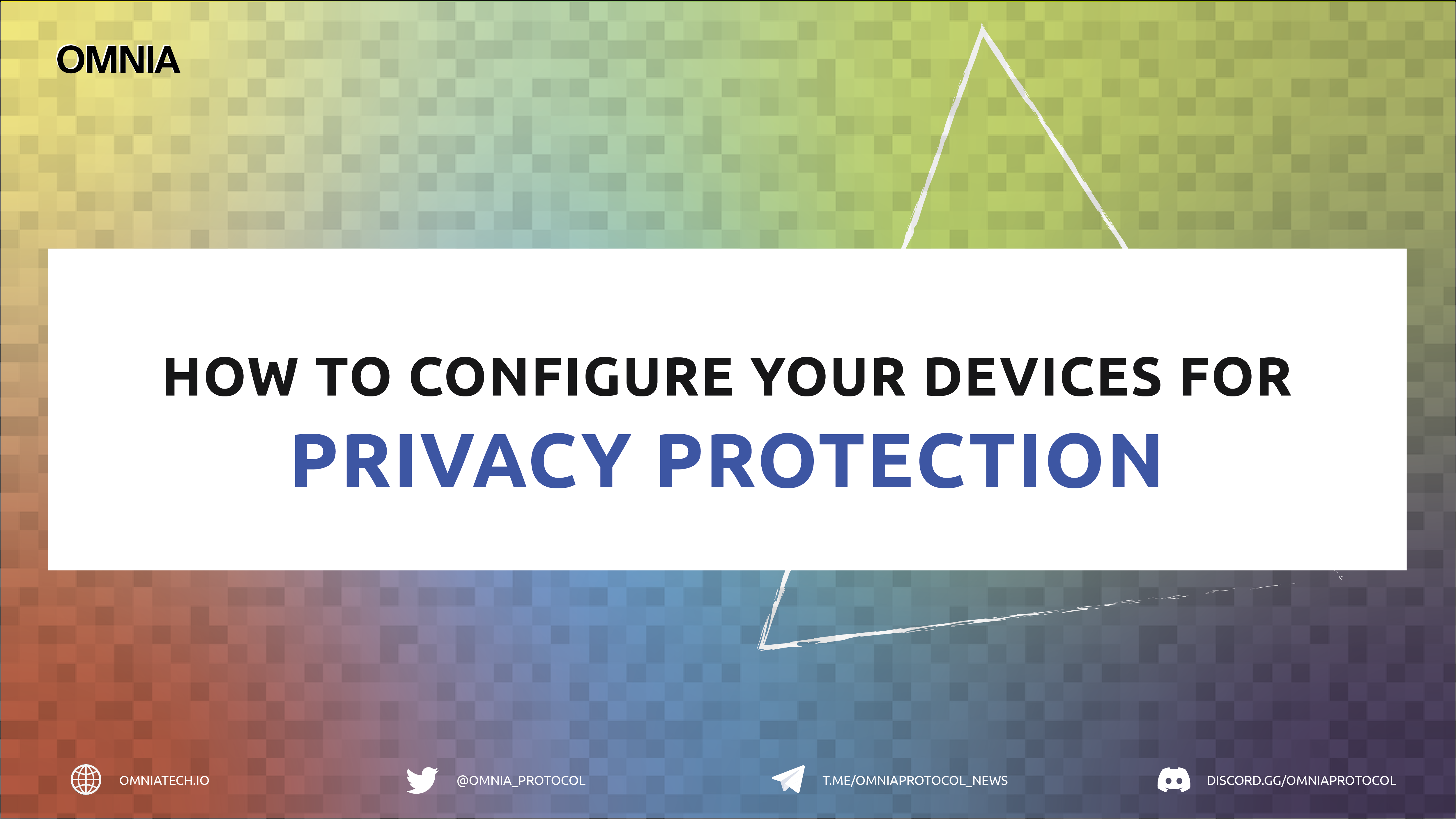 How To Configure Your Devices for Privacy Protection
5
min read
The electronic devices we use to go about our daily lives increasingly rely on the internet to function and provide real-time updates to information. Most apps and widgets on mobile devices and personal computers constantly send and receive data via the web to efficiently serve our needs. The same applies when venturing into the internet through the various browsers available and the extensions that simplify online access.
But with the efficiencies of being constantly connected to the internet comes the individual responsibility of ensuring personal privacy is not compromised online. The default settings of some of the electronic devices and apps we own leave the doors open for the leakage of personal data or potential security breaches by savvy malicious hackers.
Personal Devices, Especially Phones, Are Poorly Protected by Their Users
As mobile devices evolve to almost equalling the processing power of personal computers, they have naturally become the devices of choice for accessing the internet. According to research by Statscounter.com, mobile device usage in accessing the internet (58%) has eclipsed desktop computers (39%).
Internet usage statistics by the device. Source, StatCounter.com
Another study shows that mobile devices are the least protected by their users. For example,
1 in 10 Android devices has enabled pre-boot passcode encryption
1 in 3 Android devices do not have passcodes on their lock screens
1 in 20 Android devices is jailbroken
20% of Android devices are running OS 5.1.1, and 32% are running version 4.0 or below
Personal security statistics on Android devices. Source, Duo.com.
How to Configure Your Devices for Privacy Protection (iOS, Windows, Mac, Linux, Android, Crypto Wallets)
It is, therefore, essential for users to familiarize themselves with a few ways to increase the security and privacy of their devices, thus ensuring that they are constantly protected when online.
Tips for Android Devices
Android-powered mobile devices are the most popular worldwide, and their users can do the following to increase their security and privacy. (A full tutorial can be found here.)
Minimize google data collection, including location information
Lock down your device using a PIN or password
Encrypt the device to protect personal data
Update Android software and Apps regularly
Do not trust third-party app stores
Check app permissions before installing and review them for installed apps
Check apps that constantly sync to the cloud and disable this feature for apps that are not essential or not used frequently
Hide private notifications
Review which apps have access to your location data
Use privacy-centric browsers
Tips for iOS Devices (iPhone and iPad)
In addition to the tips above for Android devices, iOS users can do the following. (Click here for a full tutorial.)
Enable the erasing of data after ten failed passcode attempts
Disable notifications in the lock screen for sensitive apple
Turn off 'share my location' and location services for unimportant apps
Disable access to sensitive data (contacts, calendar, photos) for unimportant apps
Turn off read receipts for messages
Turn on 'limit ad tracking' which restricts the tracking of ads across apps
Tips for Mac Devices
Users of Mac devices can perform the following to increase their privacy. (Click here for a full tutorial.)
Encrypt the device's files using the built-in File Vault feature
Set an account password and disable automatic login
Update the macOS regularly
Enable the firewall and stealth mode
Set automatic log-out after a set period of inactivity
Use an admin password for system changes
Restrict location access and sharing by apps
Download apps from trusted sources such as the Apple store
Review which apps can access sensitive data such as contacts, calendars, and photos
Limit the sending of diagnostic and usage data
Use a privacy-centric browser or VPN
Tips for Windows 7 Devices
Windows 7 is still one of the most popular operating systems around the world. Users can use the following tips to increase their security and privacy (A full tutorial can be found here for Windows 7.)
Enable a password for your user account
Limit the use of the administrator account by creating a separate user account for regular usage
Opt out of the customer experience improvement program
Encrypto your PC using the built-in BitLocker
Stop recently opened files and programs from appearing on the Start menu
Constantly review installed programs for privacy leaks
Check sharing options for your account profiles
Keep important files, and folders private
Turn off remote assistance and remote desktop
Remove tracking, and data collection updates and prevent them from being installed
Use a VPN or a privacy-centered browser
Tips for Windows 10 Devices
For Windows 10 users, the following can assist in increasing device security and privacy. (A full tutorial can be found here.)
Use a password or PIN
There is no need to link the PC with a Microsoft account
Enable random hardware addresses when using WiFi
Disable automatic connection to open WiFi networks
Disable Cortana to keep voice data private
Double-check system updates for privacy settings
Turn off sharing advertising ID with apps on your system
Limit or turn off location sharing for all apps
Turn off access to sensitive information for apps
Turn off speech and typing services which send data to the cloud
Stop apps from accessing your account information
Limit apps that send and receive messages
Review apps that can access Bluetooth, microphone and camera
Reduce the feedback and usage data sent to Microsoft
Tips for Linux Devices
The Linux OS is often regarded as the safest in the industry. However, the following can be done to increase the security and privacy of devices running it. (A full tutorial can be found here.)
Do not be overconfident the device is 100% secure because it is running Linux
Use a password for your user account
Limit usage of the admin account by creating a standard user account for daily use
Encrypt data on the device
Activate the screensaver when the device is idle with a screen lock
Update the system and review all installed apps regularly
Constantly check for rootkits
Disable remote connection settings
Activate or install firewall protection
Turn off listening services not needed
Restrict privileged access with SELinux or AppArmor
Use a privacy-centric browser
Tips for Crypto Wallet Users
Popular and time-tested wallets such as MetaMask, TrustWallet, and MyEtherWallet, to name a few, have a team of developers constantly working on improvements. However, crypto wallet users can do the following to increase their security and privacy.
Constantly check for updates
Enable password protection and 2FA
Whitelist devices, IP, and crypto withdrawal addresses
Enable login, withdrawal, and deposit notifications
Store private keys offline and have physical/paper backups of them
Enable automatic logout after a specific time
Use a VPN