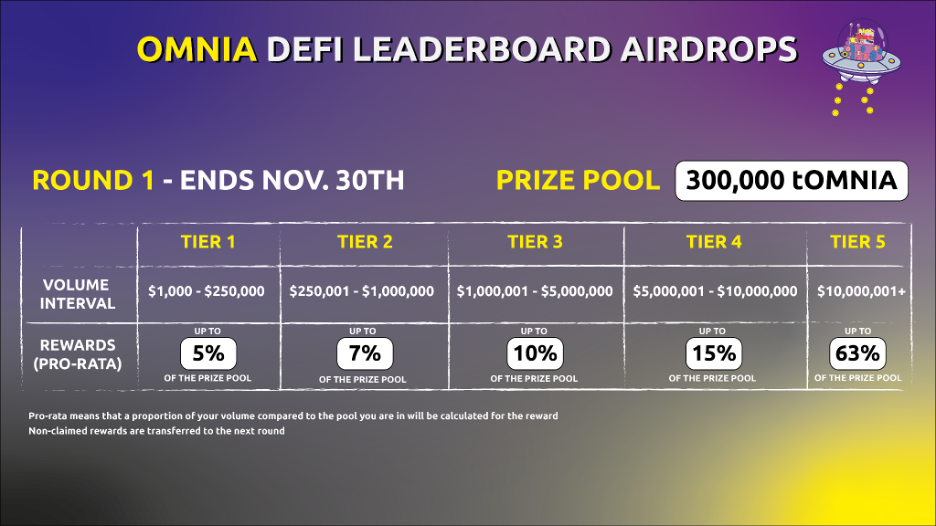 Unleashing the Power of Trading: OMNIA's DeFi Leaderboard Competition Round 1
2
min read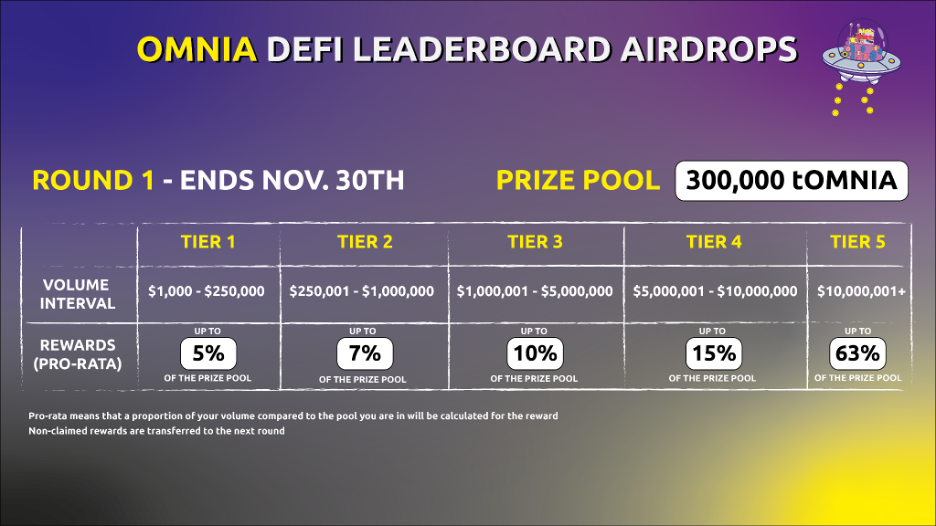 DeFi traders are constantly seeking platforms that not only provide cutting-edge technology but also reward them for their trading. Enter OMNIA Protocol, a high-performance RPC provider that takes your DeFi experience to new heights. Let's dive deeper in the 1st round of OMNIA DeFi Leaderboard competition, where traders compete for the chance to win a share of a 300,000 tOMNIA prize pool!
The DeFi Leaderboard: Where Volume Meets Rewards
At OMNIA, we understand that the heart of any successful DeFi ecosystem is the active participation of its traders. Our DeFi Leaderboard competition is designed to not only celebrate but also reward the traders who generate substantial volume through OMNIA's RPC.
Round 1 – Prize Pool Breakdown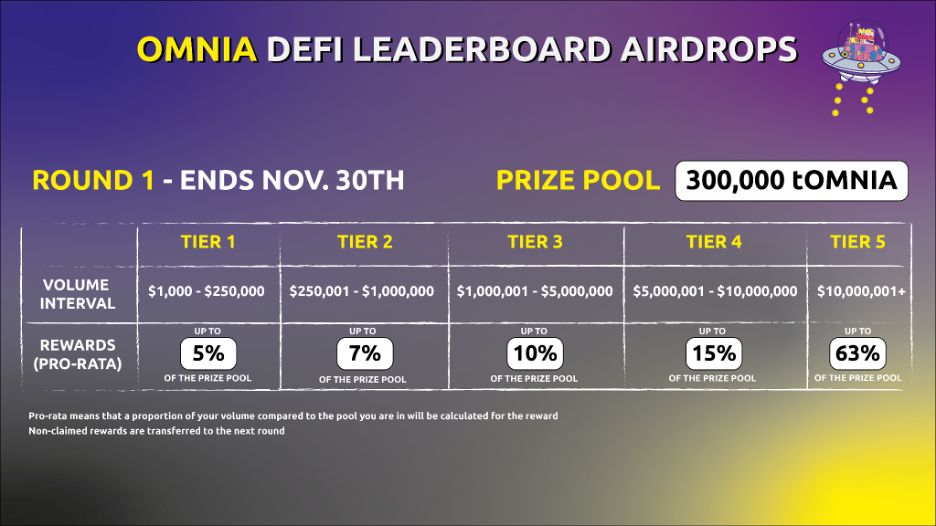 Tier 1 (5% of the Pool): Traders with a volume between $1,000 and $250,000 get a pro-rata share of 5% of the prize pool.
Tier 2 (7% of the Pool): For traders with a volume ranging from $250,001 to $1,000,000, a pro-rata share of 7% of the pool awaits.
Tier 3 (10% of the Pool): Those achieving a trading volume between $1,000,001 and $5,000,000 will receive a pro-rata share of 10% of the prize pool.
Tier 4 (15% of the Pool): Traders reaching a volume of $5,000,001 to $10,000,000 will be rewarded with a pro-rata share of 15% of the pool.
Tier 5 (63% of the Pool): The pinnacle of trading success! Traders surpassing $10,000,000 in volume will receive a pro-rata share of a whopping 63% of the prize pool.

PS: Only DEX volumes will be counted, if you are making peer-to-peer volumes those will not taken into account.
Why OMNIA?
1. Unparalleled Efficiency and Reliability:
OMNIA's high-performance RPC ensures swift and reliable transactions, empowering traders to seize opportunities in real-time.

2. MEV Cashback:
OMNIA not only protects traders from frontrunning attacks but also introduces MEV (Maximal Extractable Value) Cashback, giving back to the community.
3. Elevate Your DeFi Experience:
With OMNIA, traders can boost their DeFi experience to new heights: from private mempools to frontrunning protection, benefitting from advanced features and a seamless trading environment.
Make sure to check out the step-by-step guide on how to join the DeFi Leaderboard and improve your trading journey with OMNIA.
The OMNIA DeFi Leaderboard is not just a competition; it's a celebration of the vibrant and dynamic community that makes DeFi thrive. As we walk towards the future of decentralized finance, OMNIA is committed to providing unparalleled technology, security, and, most importantly, rewarding its community for loyalty and success.
Get ready to trade, compete, and win with OMNIA. Your next reward is just one transaction away!
DeFi Leaderboard: https://leaderboard.omniatech.io/
Disclaimer: This article should not be considered financial or investment advice. Token rewards and airdrop programs are subject to change, and users must check OMNIA's official channels for the most up-to-date information.